Clothlike Backsheet Magic Velcro Tape Disaposable Adult Brief Diaper with Blue ADL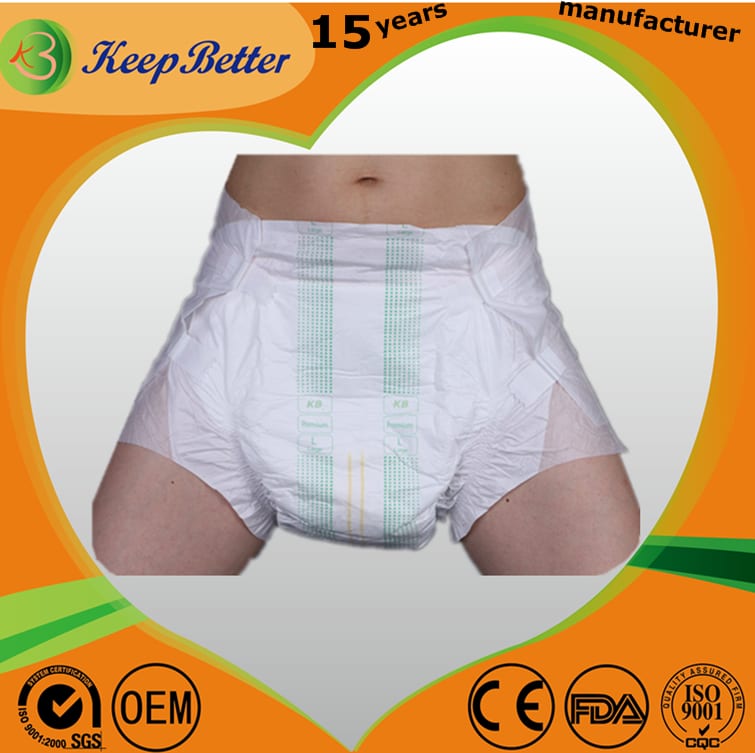 Product  details-----------------------------------------------------------
Affordable price, economic package, comfortable feeling and absorbent, this disposable Velcro tape Clothlike backsheet adult diaper is a little more expensive than PP tape PE backsheet diaper. Because Clothlike backsheet provides softer feeling to skin and more breathable, and Velcro tape gives stronger stickness than PP tape. But price is still affordable. It is hot sold in US, EU, Korea and Japan developed countries. If we say PP PE diaper is for low end market, then the Velcro Clothllike diaper is for middle end market.
Materials of this Velcro tape Clothlike backsheet adult brief diaper:
Clothlike (like textile but not) nonwoven backsheet, not only waterproof, but also breathable.
Refastenable Velcro Magic side tape and frontal tape, is called hook and loop tape, ealisy open and take off multiple times, with stronger stickness than PP tape. Especially for overnight high absorbency adult diaper, Velcro tape can bear heavier weight after overnight diaper absorbing too much urine. 
Double layers SMMS hydrophobic nonwoven is used, better anti -leakage  performance.
A.D.L.(Aquisition Distribution Layer), fasten the speed of absorption.
Absorbent pulp core with SAP, uses imported US pulp and high quality Japan sap, makes sure the diaper has good performance on faster absorbent and better dryness after rewetting.
Color customized wetness indicator

, to fade or to change color after diaper gets wet, easily remind care givers and save their time and efforts a lot. Importers and buyers can choose which type you need. We can do customized mass production according to your demands.
Regular Specifications:
Size
Dimension
Waist
Unit weight
SAP
Back sheet
Side tape
Pcs

/bag

Bags

/ctn

M

800x650mm

29"-44"

(74-112cm)

70-240g

0-45g

Clothlike

Velcro

8,10,15,

20

6,8,10

L

900x750mm

33"-50"

(84-127cm)

70-240g

0-45g

Clothlike

Velcro

8,10,14,

18

6,8,10

XL

990x800mm

35"-55"

(89-140cm)

70-240g

0-45g

Clothlike

Velcro

8,10,12,

16

6,8,10

XXL

1020x850mm

49"-60"

(124-150cm)

70-240g

0-45g

Clothlike

Velcro

8,10,12,

16

6,8,10
Customized parts:     Sizes + Weight + ml absorbency +adl + wetness indicator + elastic waistband + topsheet nonwoven + backsheet nonwoven + Package.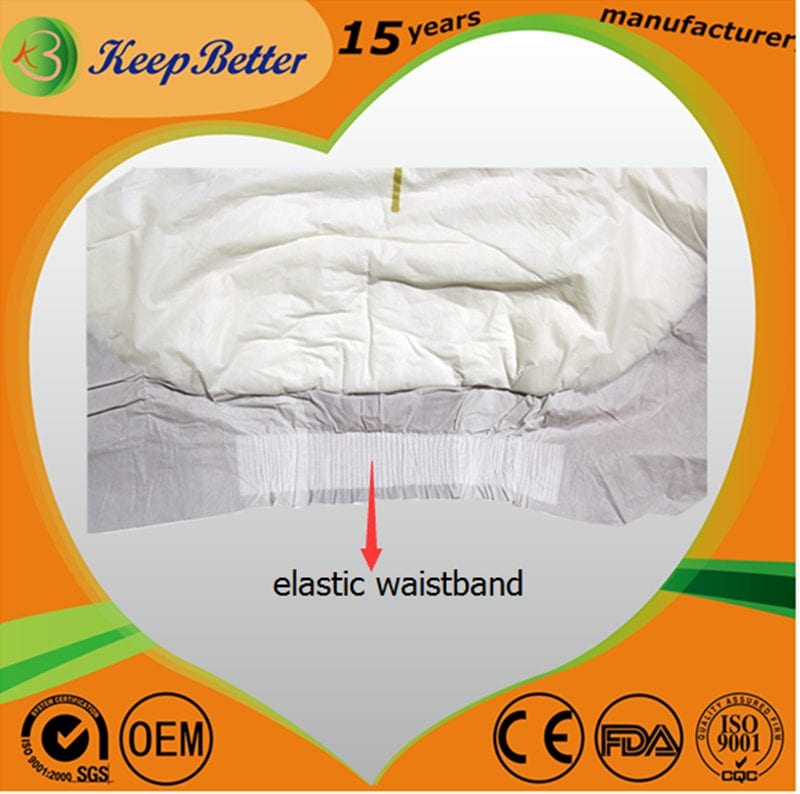 Product  features----------------------------------------------------------
1. Unisex, Suitable for both men or women

2. Double layers anti-leakage barriers

3. Breathable + anti-bacterial

4. Fast absorbent + total dry

5. 1000-7000ml absorbency can be customized

6. Refastenable side tape easy on easy off

7. Wetness indicator to remind it's time to change

8. Odor Control materials can be added to keep away bad smell
Customized parts----------------------------------------------------------
Topsheet nonwoven choice:
soft /super soft / hot wind super soft,  plain/dotted/pearl.
Side tape choice:
2.5cm, 3cm, 3.5cm, 4cm, 4.5cm. 
Frontal tape choice:
transparent velcro tape,  brand printed velcro tape. 
SAP choice:
Japan sap, USA sap, Korea sap, China sap. 
ADL choice:
white, blue, gree, yellow, or no need. 
Elastic waistband choice:
only rear, only front, both rear & front, or no need. 
Wetness indicator choice:
yellow, blue, printed letters, or no need.
Tell us your demands, we will do customized production for you!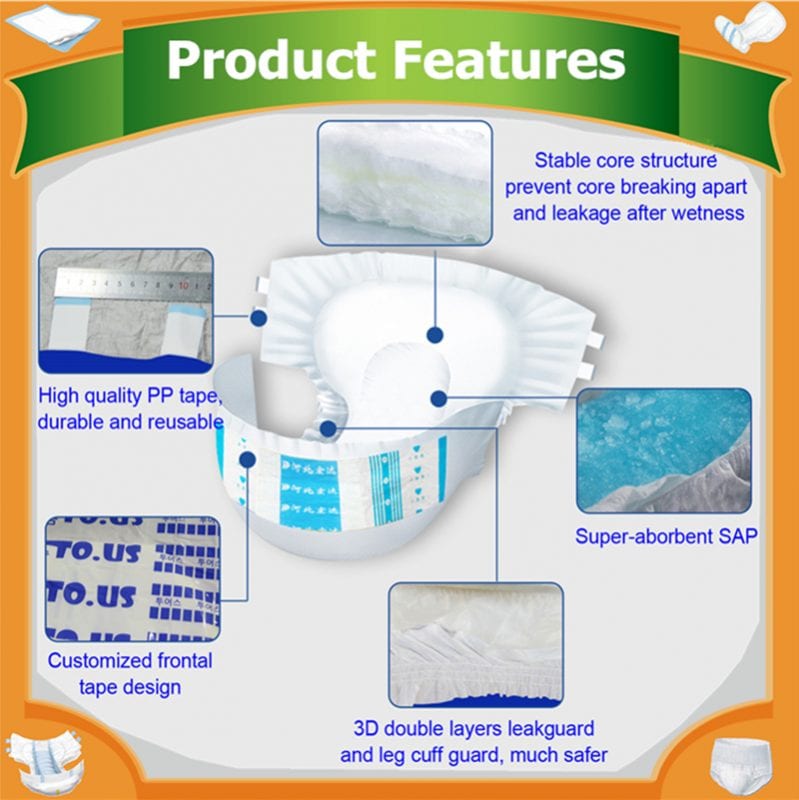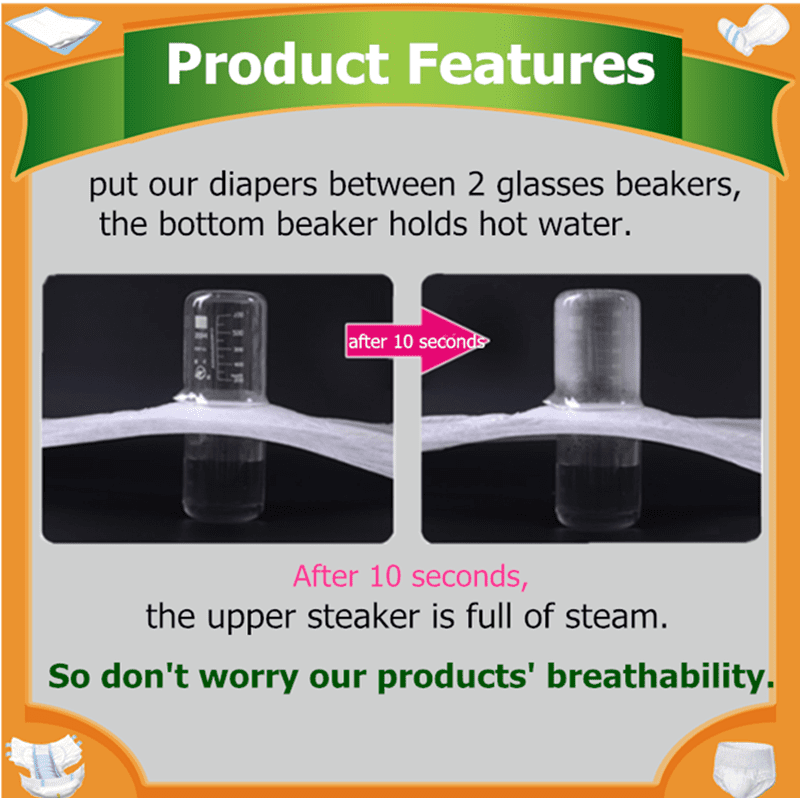 Product  packing-----------------------------------------------------------
Regular package of chucks pads are :
Economic pack:

transparent bag +printed label +master poly bag

.                               

8pcs/bag, 10pcs/bag, 12pcs/bag, 15pcs/bag.
Premium pack:

  printed bag + cartons. 

                                                                                                  4

bags/ctn,  6 bags/ctn, 8 bags/ctn, 10 bags/ctn.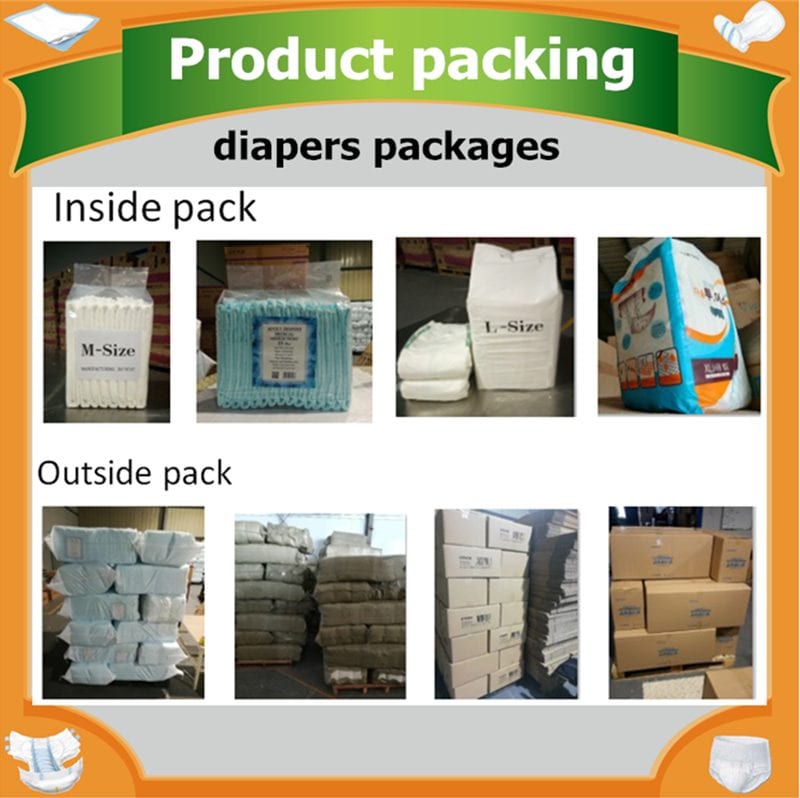 Factory Overview----------------------------------------------------------
Weifang KeepBetter Healthcare Co., Ltd
Established in 2003,

200000+m2,

18 million usd investment,

600+ employees,

10+ production lines of disposable incontinence and personal healthcare products,
main product lines are disposable adult briefs, disposable adult pull up underwear, disposable adult booster pads, disposable underpads, female sanitary napkins, maternity pads, baby diapers, baby pull up diapers, baby wet wipes, pet puppy training pads, and so on.
! We welcome factory visit with appointment in advance. 
Contact us---------------------------------------------------------------- 
Weifang KeepBetter Healthcare Co., Ltd
No. 1134, Siping Road, Kuiwen District, Weifang City, Shandong Province, China
Tel: +86 536 2297696, Fax: +86 536 2297898
Mobile +86 189 536 88166,
Contact: Victoria Wong